by Nelson L. and Andrew Y., Concordia Middle School
As players marched onto the basketball court with confidence with glory on their face, applause aroused from the crowd and echoed throughout the PC Gym.
One of the greatest basketball players of all times, Michael Jordan, once said, "Some people want it to happen, some wish it would happen, others make it happen." This year's Students vs. Teachers Basketball tournament was a perfect representation of such a team spirit.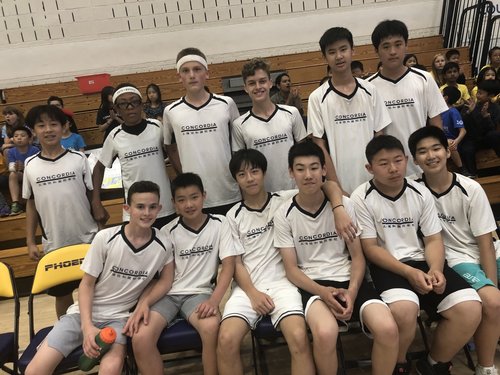 The Swaggers (image supplied)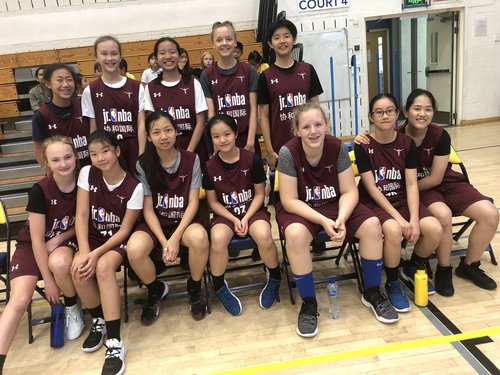 The 'A' Team ready to defeat the faculty (image supplied)
The entire tournament kicked off with a strong and tense start. With the first tournament between the C1 Boys and Male Teachers, 21 seconds after beginning, Mr. Thomas made the first basket with two points and one minute later, the teachers again made 2 points. With several successful shots, nearly no misses and perfect defends, the teachers ended the game with an overwhelming advantage of 9 to 16.
Of course, the girls did well. With a huge pressure on their shoulders, they started off successfully with two 3-points. However, skills are not the only key factors that led to their comeback – strategy. The girls called for two consecutive substitutions within the last five minutes to break down the various invasion attempts from the teachers. The girls finally came back with a total of 18 to 22.
After two nail-biting games, students heard a Chinese rapper – Mr. Cheng Ming, aka Mr. Famous. He sung three rap songs while the fans cheered him and even joined in. This half-time show eased the intense tournament and established a deeper connection between music and sportsmanship.
As the final mixed game began, the players were already exhausted from the running, shots and passes, unable to defend the teachers or make the basket. Even so, they didn't give up, within the last 30 seconds. The students made one substitution and a successful lay-up, ending the game with their best efforts and performances. The teachers ended up with 7 points ahead.

Sportsmanship and team spirit were the active ingredients for the day.
Check out this video created by Nelson L.
And check out his video by Raymond C., Kyle L., Nelson L. and Andrew Y.