Story, Images and Video by Elisabeth T., Concordia Applied Journalism
Day in and day out, the students of Concordia work hard in their studies. They strive to achieve the best grades and excel in all their classes. To some extent each student may seem robotic, only chasing grades, but that is completely false.
The students here are diverse and all have great passions in arts, sports and many other niche hobbies. Concordia is full of people who are understated about their personal passions and pursuits. Here are actual stories told by the passionate students themselves.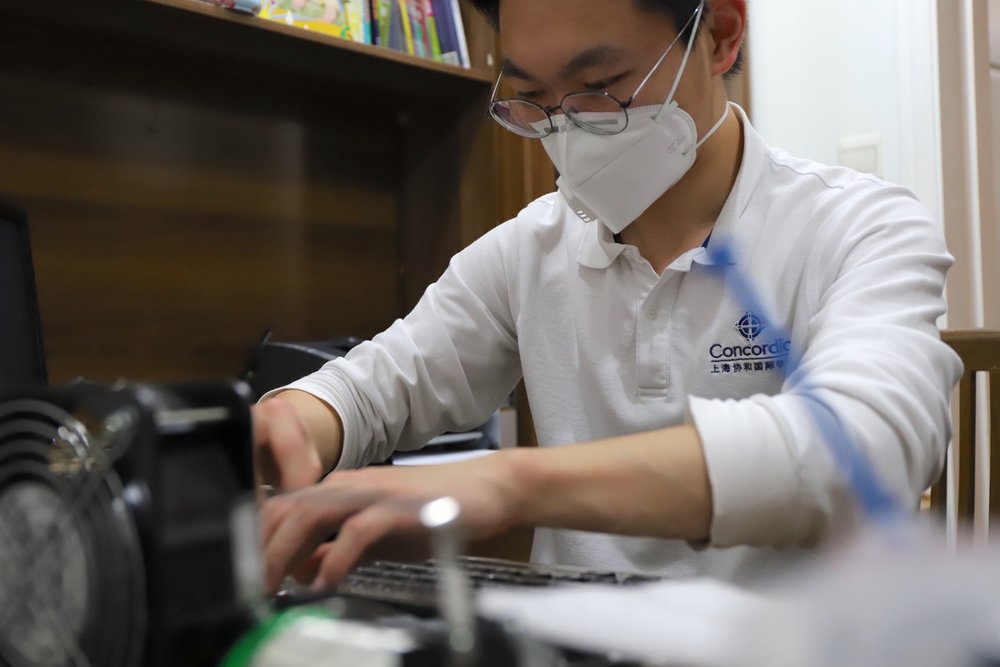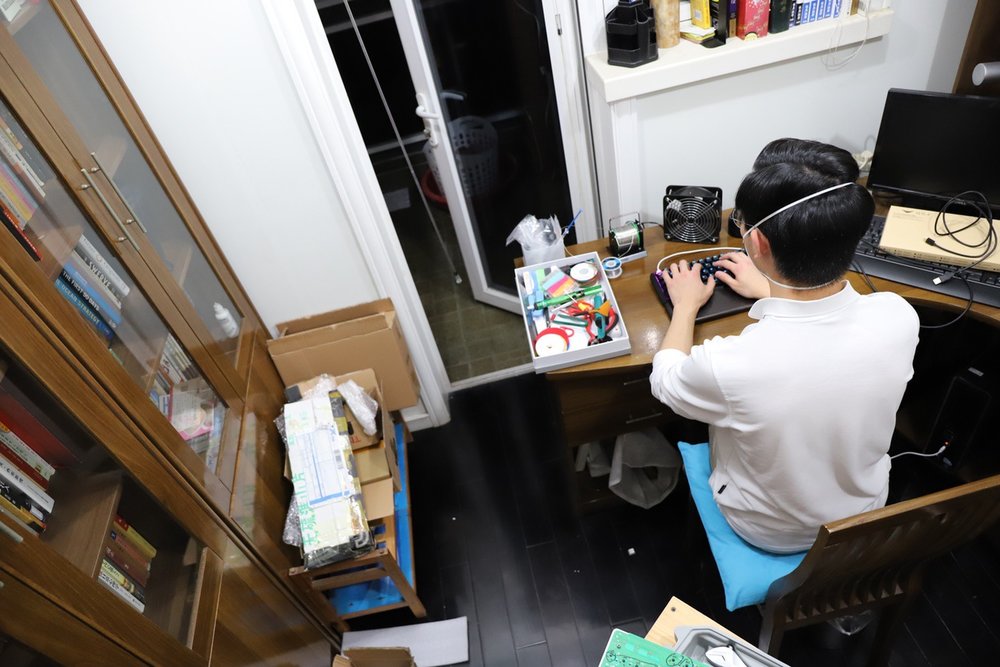 CHRIS Y.
RENOVATING OLD/BROKEN KEYBOARDS
My hobby is renovating old/ broken mechanical keyboards. I purchase cheap keyboards online, and I buy new materials according to my design (with choices made between the mechanical switches and keycap color and texture). I first disassemble the keyboards and then clean them and, lastly, I reassemble them using new materials. The process includes intensive soldering and organizing, plus some planning, money management, and visual designing.
HOW I STARTED …
I was looking for something I could do. I was interested in making things and then got into soldering. Renovating mechanical keyboards is highly soldering intensive, and I soon got completely addicted to it.
I ENJOY …
The taste of success after 5-10 hours of work—turning "a piece of garbage" into something that both looks great and is useful. This keeps me going. I can also earn some money from selling keyboards but I also enjoy giving keyboards as gifts.
A MEMORY I LIKED …
I put my name out there for a while and finally one person reached out to me and asked me to fix someone's keyboard. It took 3 hours to get to their place, but I was able to help fix their keyboard. I didn't know the person well but I became good friends with him after we shared resources and information. Having a hobby like this not only brought me joy, but also brought me new friends.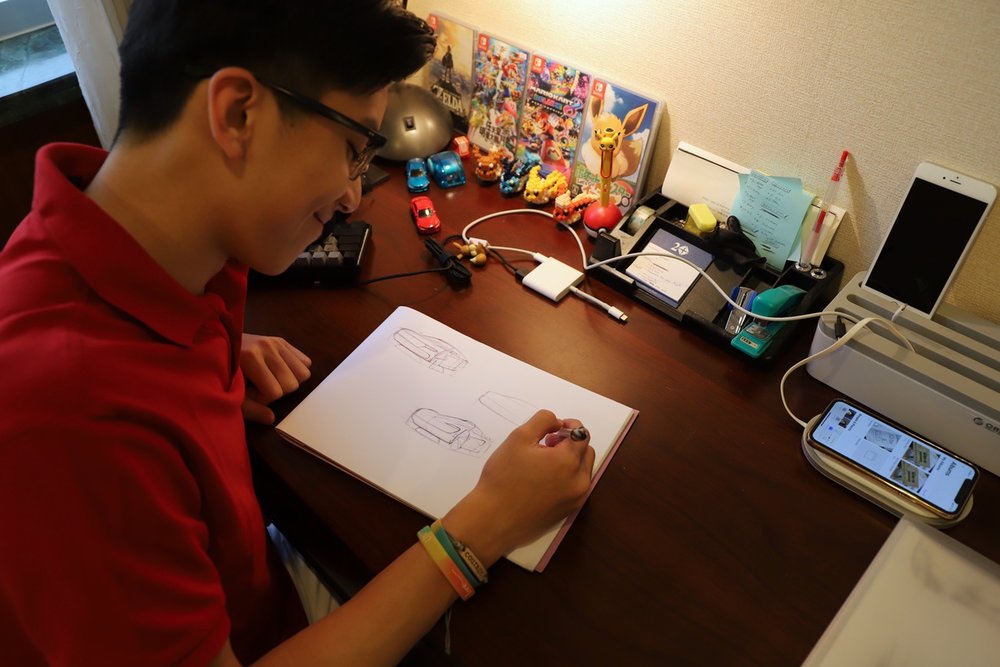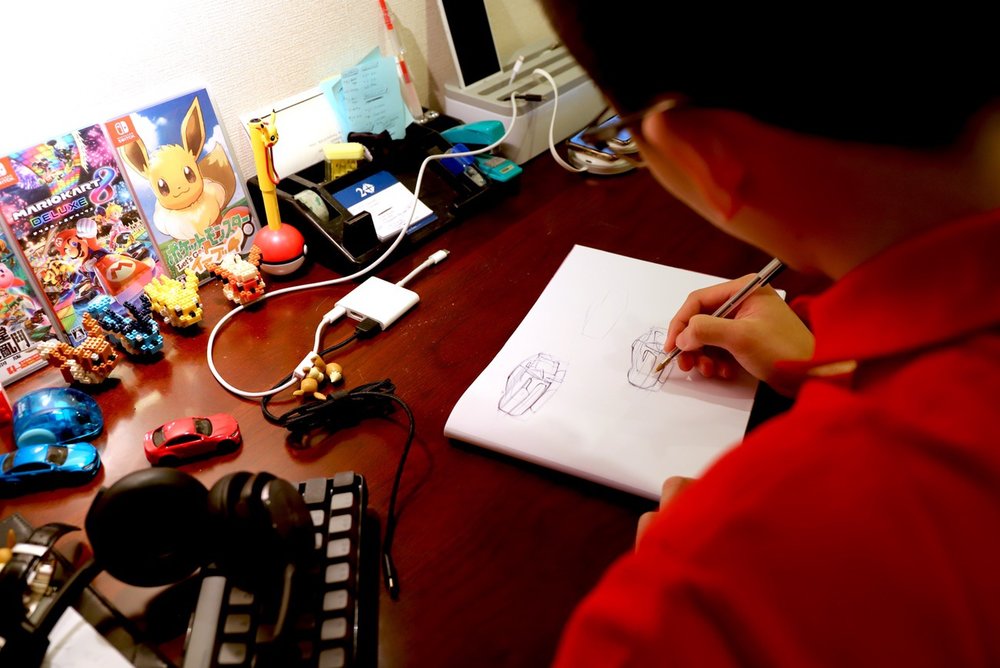 Jonathan T.
Car Design
Car design is one-third artsy sketching, one third computer programming, and one-third modeling/engineering. I started out with sketching and drawing cars using colored pencils, that's where my passion came from. I've always loved cars and art, so I combined the two. I didn't know car design could be a career, something that you could get paid to do. Once I found that car design could be an occupation I knew it was something that I wanted to do.
I was motivated when …
I visited my cousin. My cousin had a very expensive sports car and when I was a young child he took me out for a ride. We talked about cars in the sports car for hours. We sped down highways. It solidified my passion for cars. This event really motivated me to strive to work in the industry.
In my future, I want to …
My next steps are to go to college so that I can get a job in the car design field. It is very, a lot of people are doing it and doing well. The car design major used to be for graduates but now it has been opened towards undergraduates. However, this is still a relatively new career path to choose. It only gets more competitive as time passes and I want to work hard to solidify my place in the car design world.
A specific event that spiked my interest …
Getting the placement for last year's junior internship program made me extremely interested in the car industry. I went to intern at a car company and see people work and what they were doing really impacted me. I became really passionate after that. I then continued to work hard over the summer on my art portfolio so that I could do what they do in the future.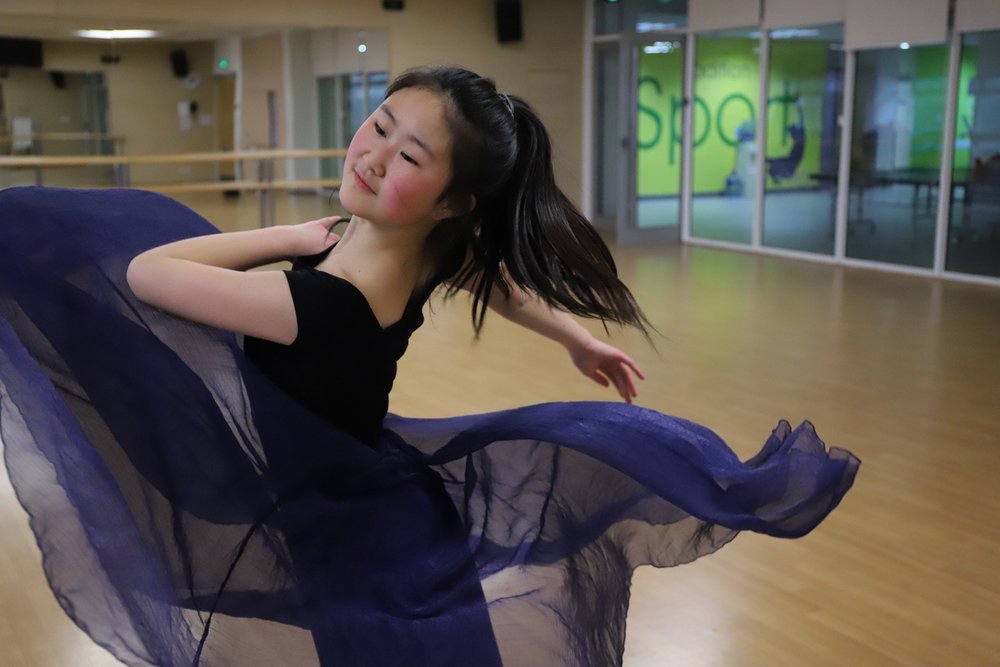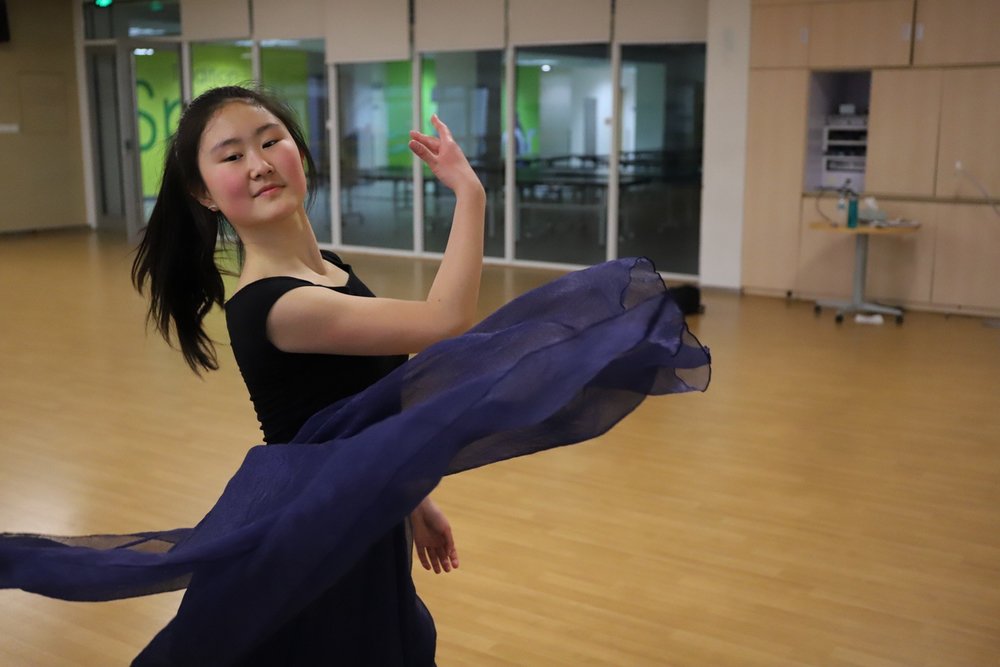 Anna W.
Dance
There was a time when I went to a lot more classes but I stopped. At the moment I take dance classes for one and a half hours and I teach basic dance at a migrant school every Saturday. I started when I was three. It was my mom who brought me to the dance classes. My mom liked to dance — she saw it as beyond just dance. She said it as being able to express yourself so she brought me to the classes. Since then I've danced many types of dance.
The emotions I feel …
After dancing for so long, to me, dance is all about expression. It feels free and you are not limited. The emotions that are conveyed through dance apply to all circumstances, you have so much freedom. Even when I watch videos of dance I feel those freeing feelings. When I finish a dance and perform I have a feeling of accomplishment. There is a joy to sharing dance with someone else.
How I help through dance …
I teach migrant school kids every Sunday to share the change dance has brought me and to give them a chance to develop a hobby. It is volunteer work. I partner with a school and teach for free. I started in 7th-grade tagging along with my sister and mom. We called migrant schools, told them who we are and what we wanted to do. Many schools said no but one of them approved us. It is hard for the migrant schools to continue because of laws. Many of the schools I volunteered at closed down. When my sister graduated I was left to continue it myself. The school I previously helped had closed down, but I wanted to continue this. My mom did not push me but I chose to call up the schools and ask if they wanted my help. I called five schools and, again, many said no. Only one school said yes to me. They gave me the opportunity so I could continue.
A story I liked …
During TrIBES we went to a town square at night there were many people doing guang chang dance. Guang chang dance is a dance usually done in community areas. It is similar to follow the leader where groups of people will learn dances by following a person at the front. Unlike the usual square formation, everyone was dancing in a circle with a leader in the middle. The reason why I liked it was because it felt open to everyone; anyone could join. When everyone was in a circle there is a sense of connection. Through dance, a big group of people was brought together and it had a lot of power. Many tourists in the town joined the dance and there were people from many different cultures. Dance is a universal language.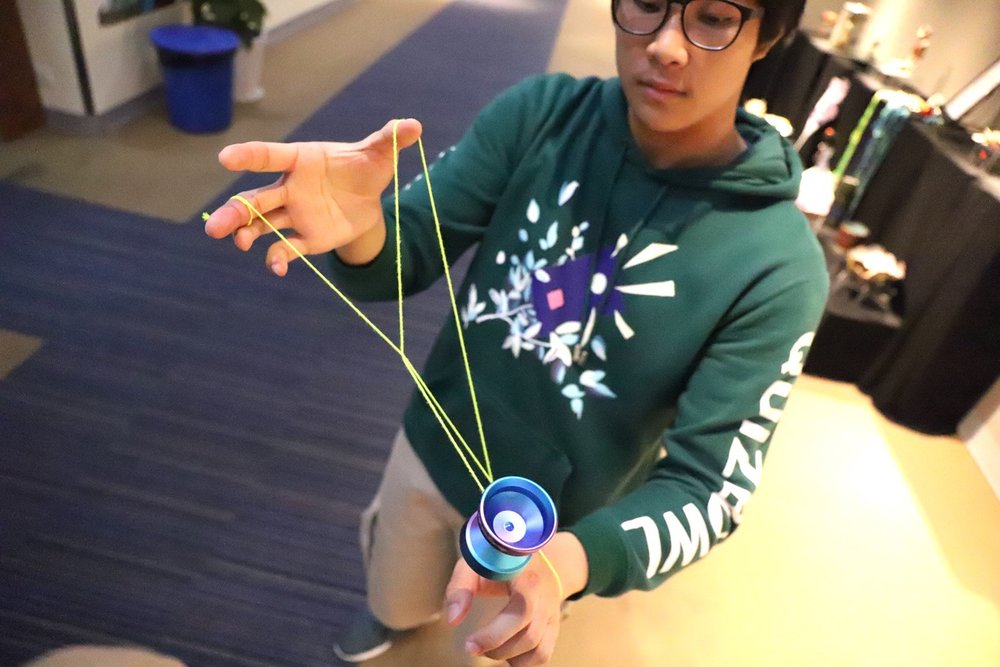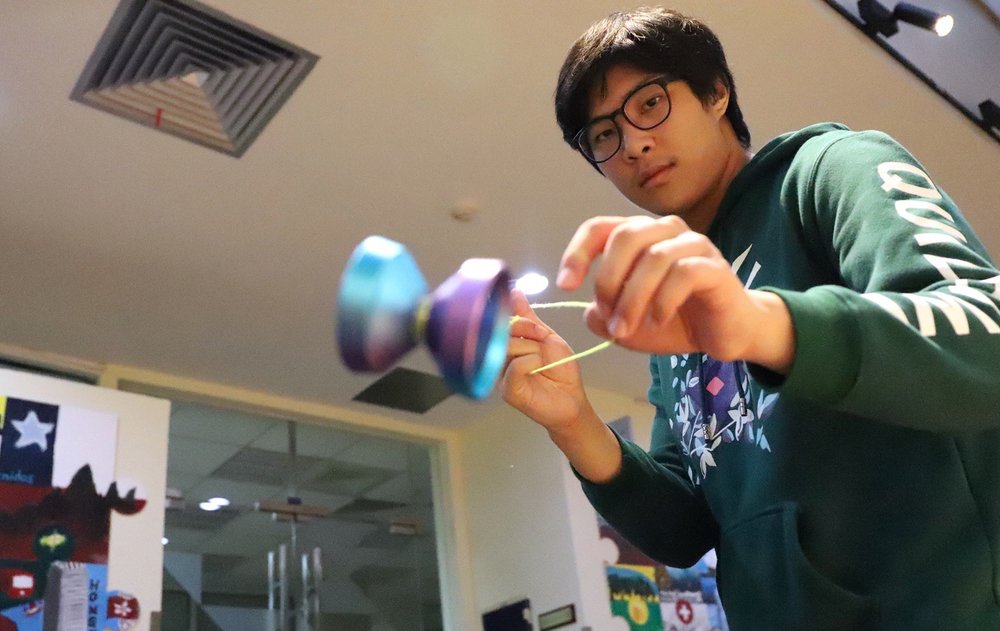 NICHOLAS H.
YOYO
Well, the neat thing about my hobby is that everyone knows what a yoyo is. Almost everyone has tried a yoyo sometime in third or fourth grade. My hobby is just yoyoing. To those who don't know what a yoyo is: it's a device in which one side of a string is connected to a ball bearing and the other side is connected to your hand and by unspooling the yoyo really fast you can do cool string tricks with the spinning yoyo at the end of the string. The reason yoyo is so neat is because since the yoyo is spinning at the end of the string, it has the capacity to roll back up back into the hand. It's easier to just show than explain.
Finding my hobby …
I got into my hobby by watching two videos, one was by a science channel called Veritasium where he explains the science of an offstring yoyo, another was just an artistic yoyo video called "Yoyo Wizardry in Slow Motion". It was more so the second video that inspired me. I remember I was burnt out, depressed, and exhausted from academics and essentially school. So I chose a hobby to take up that wasn't video games and was as far away from any school related activity — something that I thought would do nothing for my college application — something that no one did. I just needed a change of pace.
Getting over my fears …
The thing with yoyoing in performance, the nerves are always worse than you thought it would be. Like in debates, your hand can tremble and it doesn't matter, but in yoyoing, if you're performing a trick and you're off by a fraction of a second or the string doesn't whip around a right way, you can easily mess up the entire trick.
The first time I tried to yoyo in front of a group was in my Sophomore year — some sort of dance — I messed up a lot. Eventually, bit by bit I got better and more consistent with my tricks. When I was able to yoyo a decent performance at Cabaret 2019, that was a pretty great achievement for me.
Learning more …
When you're good at something, you typically want to do more of it. As I got better at yoyoing, I wanted to learn more. There were lots of moments like "wait... that next cool trick is within grasp, I can actually learn it!" In the United States, I'll probably attend more yoyo meets and competitions. I could have done it in China but my Chinese isn't that good and I get too busy anyway. The yoyo scene in the US is great.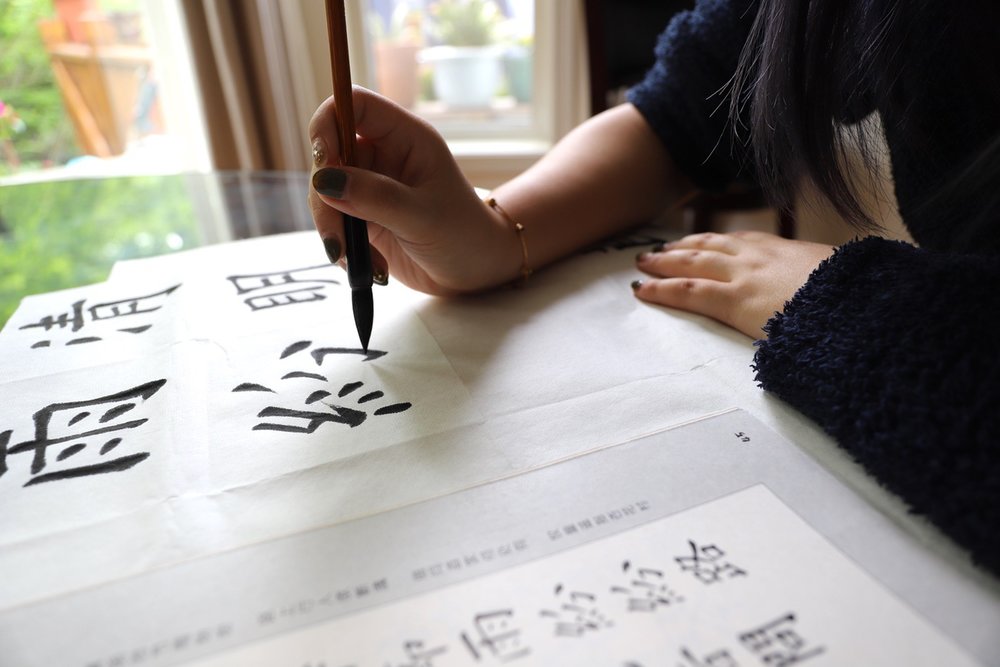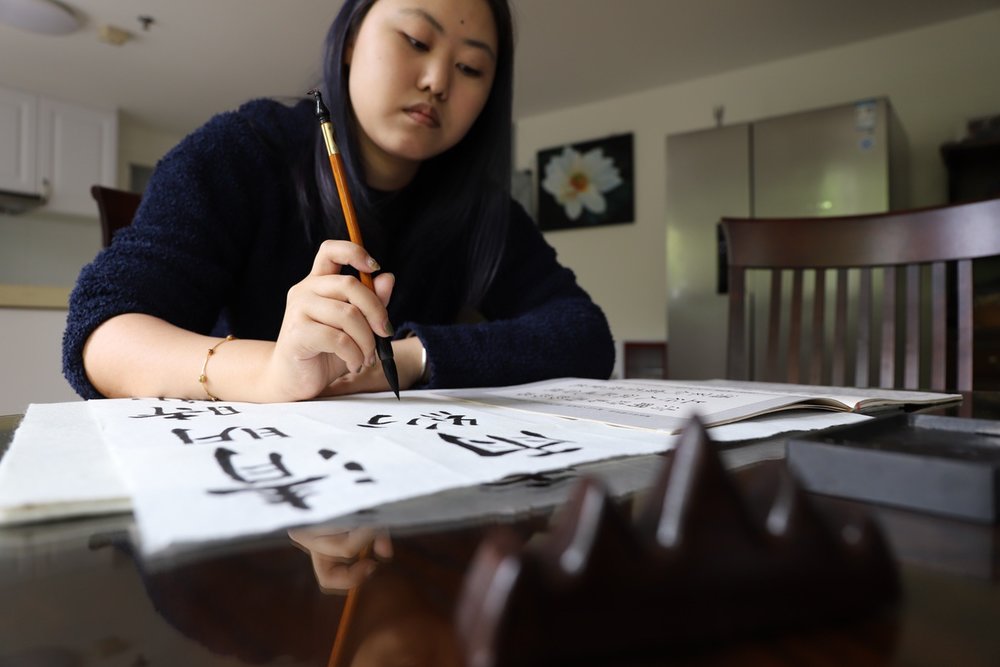 SELINA Z.
CALLIGRAPHY
Calligraphy is a type/form of traditional Chinese art. The materials needed include a special calligraphy brush, calligraphy ink, and different types of rice paper. Beginners start by copying the work of famous calligraphers from different dynasties; eventually, they expand to different styles. It is about calming yourself in the process of writing.
Finding my hobby …
There was a calligraphy teacher at my old art studio and my dad wanted me to write a Fu for Chinese new year. After I tried it I decided I wanted to go more in depth is this art. I wanted to try it and my dad said it was good to help with calming and concentration. I didn't like it when I started, but my teacher said I had natural talent so I decided to try for longer and eventually liked it.
A relaxing moment ...
I feel calm, because you need to calm yourself in order to have your full attention when arranging the characters. I thought I should continue with this hobby so that when I grow up I would have a hobby to relax from the stresses of life.
Overcoming obstacles …
I wrote this gigantic piece of work called, Heart Sutra, I worked on it for half a year and it got ruined in the process of framing. It was smudged in the middle, I wasn't really angry, I just thought I would write another one and improve next time.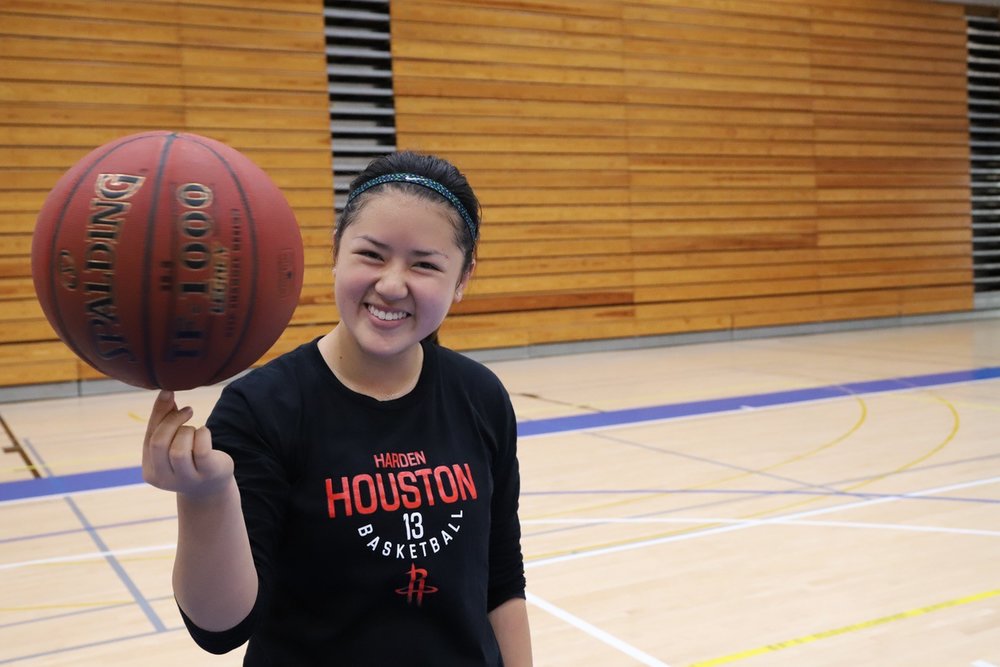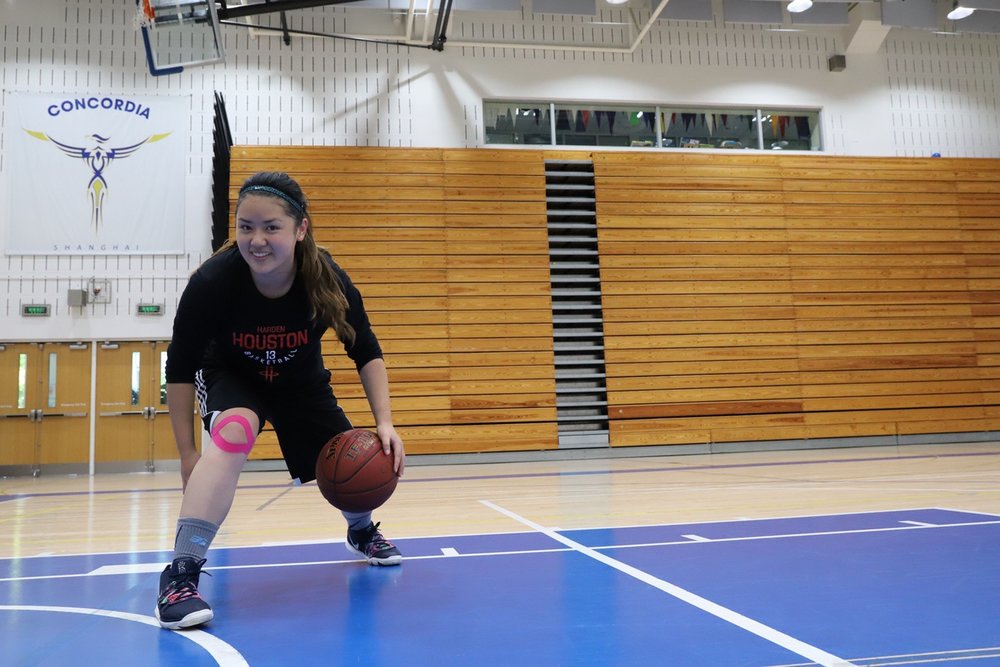 KAREN M.
BASKETBALL
My hobby is basketball; I play point guard. Point guard is the person who controls the game and you also need the best ball handling skills. You need to have court vision (knowing when to attack and when to play offense) and be a leader on the court. I like to play three on three, as it is more fluid and you can play more randomly; there is constant movement.
Finding my passion …
When I go out to play it is such a community and you can make a lot of friends. I like to see myself improve, it motivates me to keep loving and doing the sport. I also think it's cool to beat guys. In middle school basketball was not a passion, it was from 11 to 12th grade when my passion grew. A certain coach was the reason why I didn't like it — I thought about quitting. On the other hand, he was also the reason I got better. I trained really hard because I wanted to prove him wrong. I played with people who also loved the sport and my love grew. Being and training with them made me love basketball.
I am happiest when …
I am happiest when I go to the pickup quarts and all I hear is the sound of dribbling. When I first asked to join the guys they would undermine me because I was a girl. I was happy when I was able to prove them wrong with my skills and abilities, they now include me as an equal.
My second half…
I have overwhelming love and passion for basketball. I play year round, it is part of my life. When I'm bored, sad, happy or stressed I will play to relax and feel better. It's like a best friend who will always be there and never let me down.
---
Elisabeth T., is a passionate artist, designer and journalist.