by Sophia C. and Celine H., Concordia Middle School Students
"What are my gifts? Who can I help? What can I learn?" are just a few of the questions that the ELG (Engage Learn Grow) volunteers challenged the Concordia 8th Graders to wonder when they visited in early December.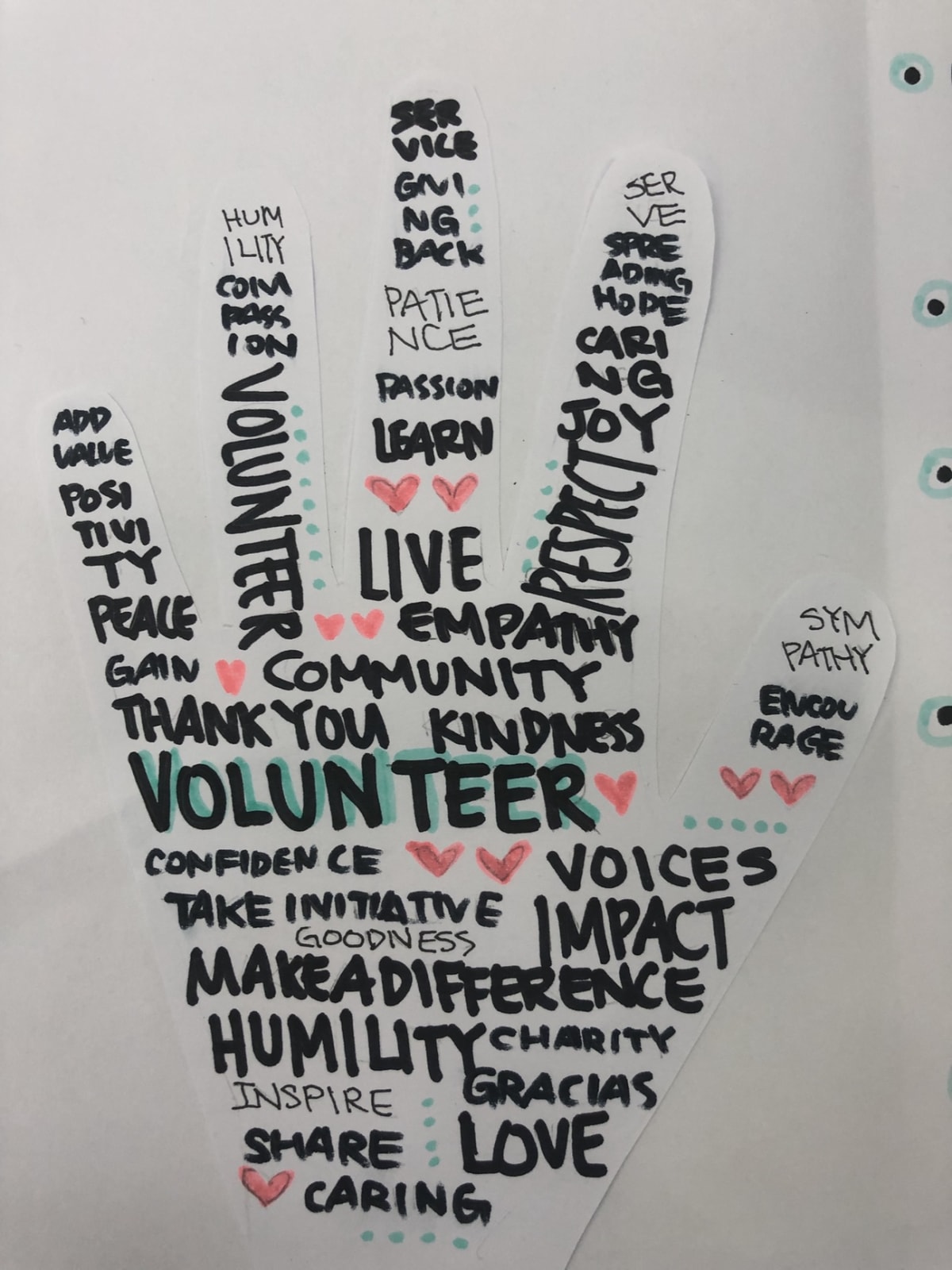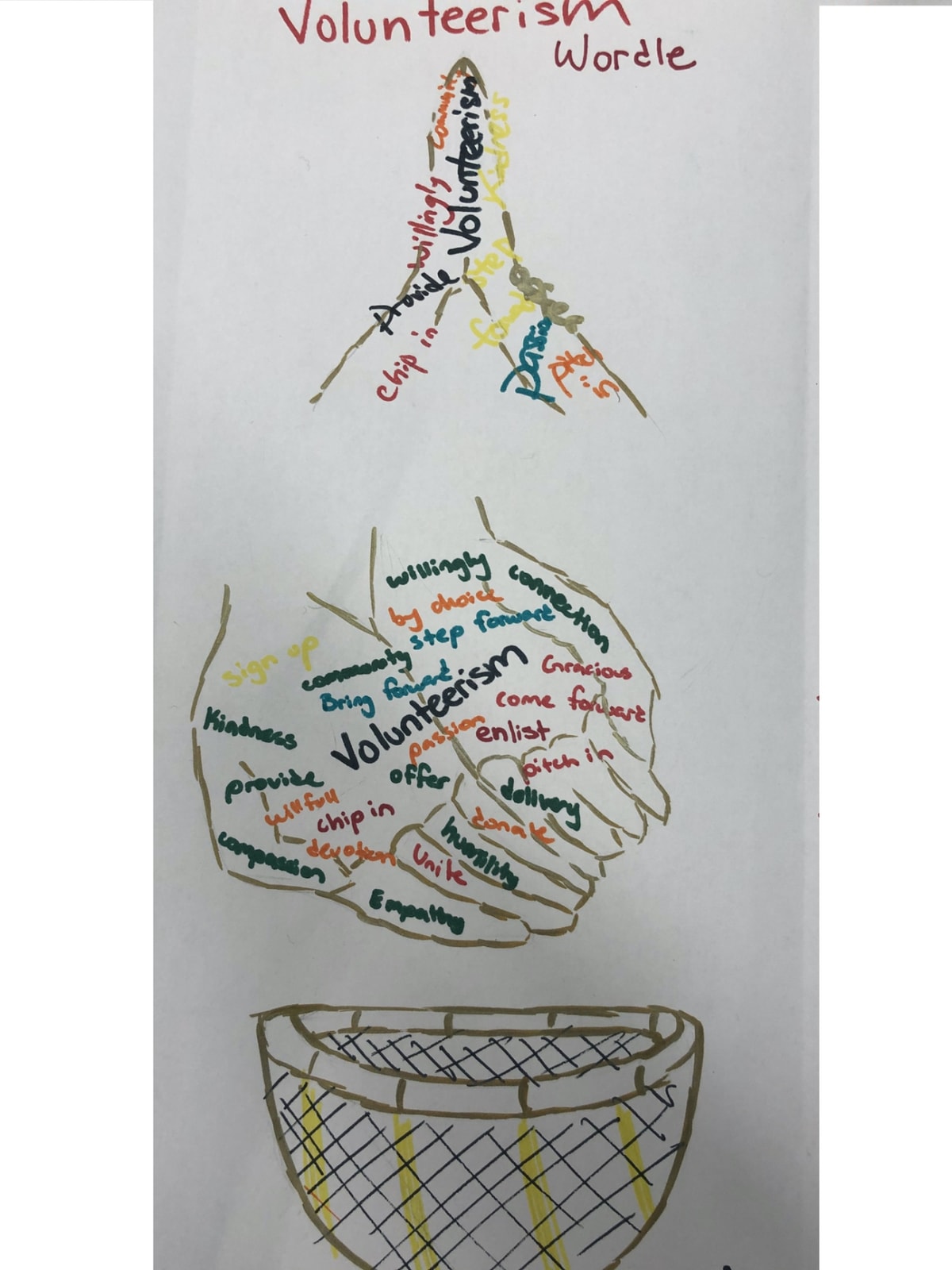 This organization educates children with special needs – hearing disorders, mental challenges and social disabilities. Each of the adult volunteers wore their "ELG" striped orange and gray arm-bands and grade 8 students discovered the 'why' we should volunteer – help others beyond self. Andrew Hill (Founder of ELG) and Genevieve Ermeling (Assistant Head of School for Teaching and Learning) and their team spoke to grade 8 students about their experiences as a volunteer.
Prior to their visit, grade 8 teachers gave an overview on the elements we should consider when we volunteer as well as purpose. In addition, we made a Wordle using words that describe a volunteer: compassion, patience, empathy and passion.
Defining it as "whole-hearted service, expecting nothing in return" was a general definition that many students agreed upon. However, a quick class survey showed that hardly any students volunteer regularly. Even in that small handful, much of that volunteer work was the result of a pestering adult ­– mom or dad.
"We know we should, but we don't have the time or opportunity," says Ellesse C., an 8th grader who took the volunteerism poll.
Among the ELG foundation, five of their volunteers were introduced to the Concordia 8th graders – Tiffany, Phoebe, Miriam, Katie, and Tameah. After introducing what inspired them to devote themselves to a life of volunteerism and their occupations within ELG, students were encouraged to ask questions. During the three rotations, each volunteer shared a different reason for joining the foundation, but every individual told one story the same – I love my vocation and wished they could do more.
Out of the questions asked was, "When did you know you wanted to work at ELG?" Registered behavior technician, Tameah, explained that you don't always need to know exactly what career you'll have from a young age. Her dream jobs switched from one to another. At one stage, she wanted to be a lawyer or professor, until she pursued a passion for professional volunteerism.
These volunteers proved that if anyone tells you that volunteering can't be a job, they are wrong.
When asked about the perks of volunteering, they unanimously agreed that it is a rewarding experience. The two volunteers, Katie and Phoebe, explained how they assisted the young challenged students learn skills that can used through their lifetime. Another volunteer, Miriam, shared how she met new children, watched their abilities grow and formed meaningful relationships with them.
By way of advice, Tameah simply stated that one should never limit their capabilities. She advised to first establish what your gifts are. Then, find a way to integrate those talents into helping others. Katie goes on to add that qualities you may consider a weakness can actually be an asset to an organization you may wish to volunteer.
Every ELG volunteer strongly encouraged the students to try it out, adding, "There are options everywhere." Regardless of experience, age, gender, ethnicity, everyone can always step out and V O L U N T E E R.