By LeeAnne Lavender
Service Learning Coach & AP Literature teacher
In September, after spending a week with service learning specialist Cathy Berger Kaye, I found myself rethinking some approaches for my AP Literature & Composition classes.
Cathy was at Concordia the third time in 2019/20 to deliver inspiring workshops about how service learning experiences can create authentic, hands-on and relevant learning opportunities for students. As the school's service learning coach, I was able to spend the entire week shadowing Cathy and participating in her workshops with our educators.
While I have created service learning experiences in all of the other classes I teach, I had been reluctant to do so in AP Literature because of the big enemy in these busy classes: time.
Like many AP and IB teachers, I have a busy syllabus and a lot of ground to cover with my students to fulfill the expectations of an outside governing body and to prepare students for rigorous external assessments. Hence, I haven't created the space to imagine how I might open up a service learning experience for my AP students.
However, this autumn, I found myself questioning these assumptions. If service learning experiences DO open up relevant and authentic learning for students in the context of specific curricular objectives (which I firmly believe, having experienced this with students many times in other classes), why wouldn't I want that to happen in AP Lit, as well? If students could see how studying a novel or play relates to life in 2019/20, and to the urgent issues facing our world, would that not increase their engagement with the texts and result in deeper understanding of literary analysis?
With these questions in mind, I decided to tear apart a unit that was about to begin. This unit, called "Home, Place and Identity", features Barbara Kingsolver's novel The Poisonwood Bible, short stories by Alistair MacLeod and Alice Munro, and poems by a variety of classic and contemporary writers across Africa. Typically, a summative assessment in the unit has been an oral presentation where students do research about a cultural and contextual issue connected to the novel and then present their findings in an interactive and polished presentation. The types of cultural and contextual issues they research range from the history of colonialism in Africa and in the Congo to the effects of colonialism, current issues in the Congo (including conflict minerals and the electronics we all purchase), and questions about neo-colonialism/globalization.
With service learning in mind, I began to rethink this assessment. What might it look like to replace the presentations with some action research using the MISO technique (media, interviews, surveys and observations)? What might it look like to have students identify a need out of their MISO work and then create an action plan as a response?
My students (28 students in two classes) were excited to try a new approach and tackled their MISO work with enthusiasm. The questions they created to guide their MISO investigations were thought-provoking and meaningful. Some examples include:
· Does neo-colonialsm exist in Africa and what are the implications of this question?
· Is reconciliation possible in the context of historical injustice, and are the acts of our ancestors a cross for us to bear?
· How has artistic expression changed over the years in the Congo and how can we be more aware of this artistic tradition?
· How can people in our community think about the African continent in more specific, complex and multi-layered ways?
· How does our demand for electronics affect conflict in the Congo, and how can my actions contribute to a solution?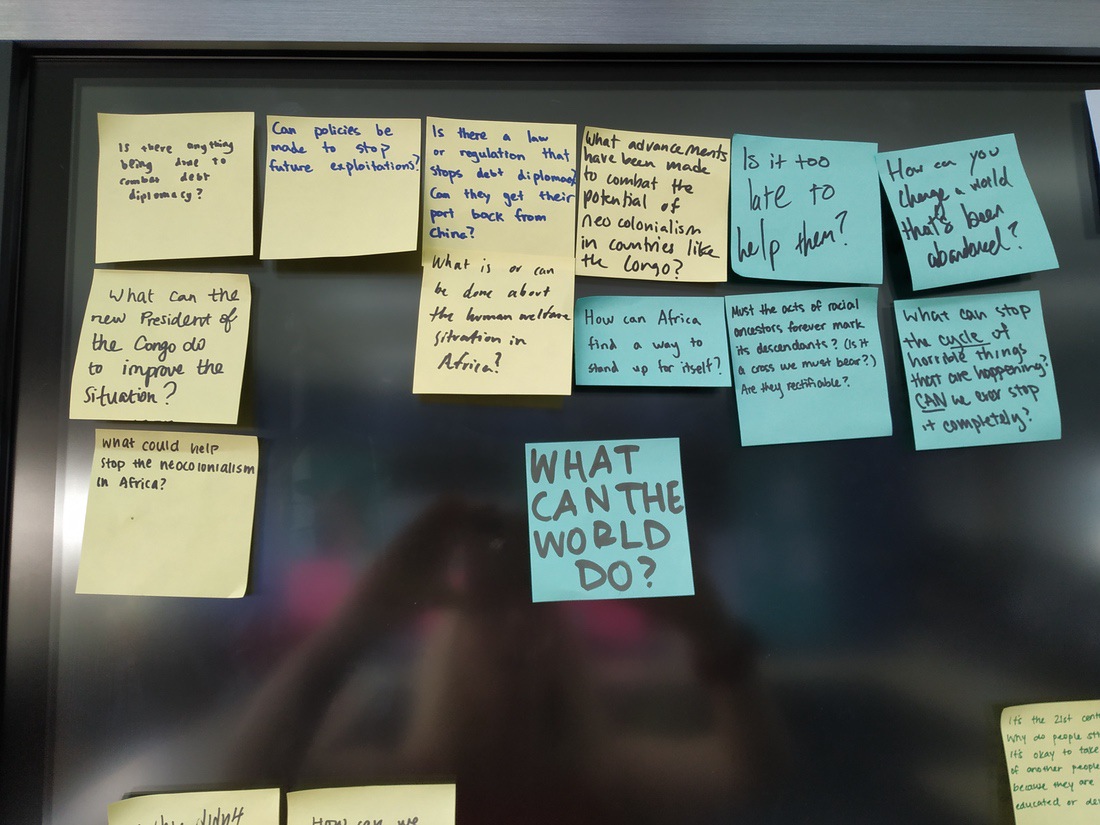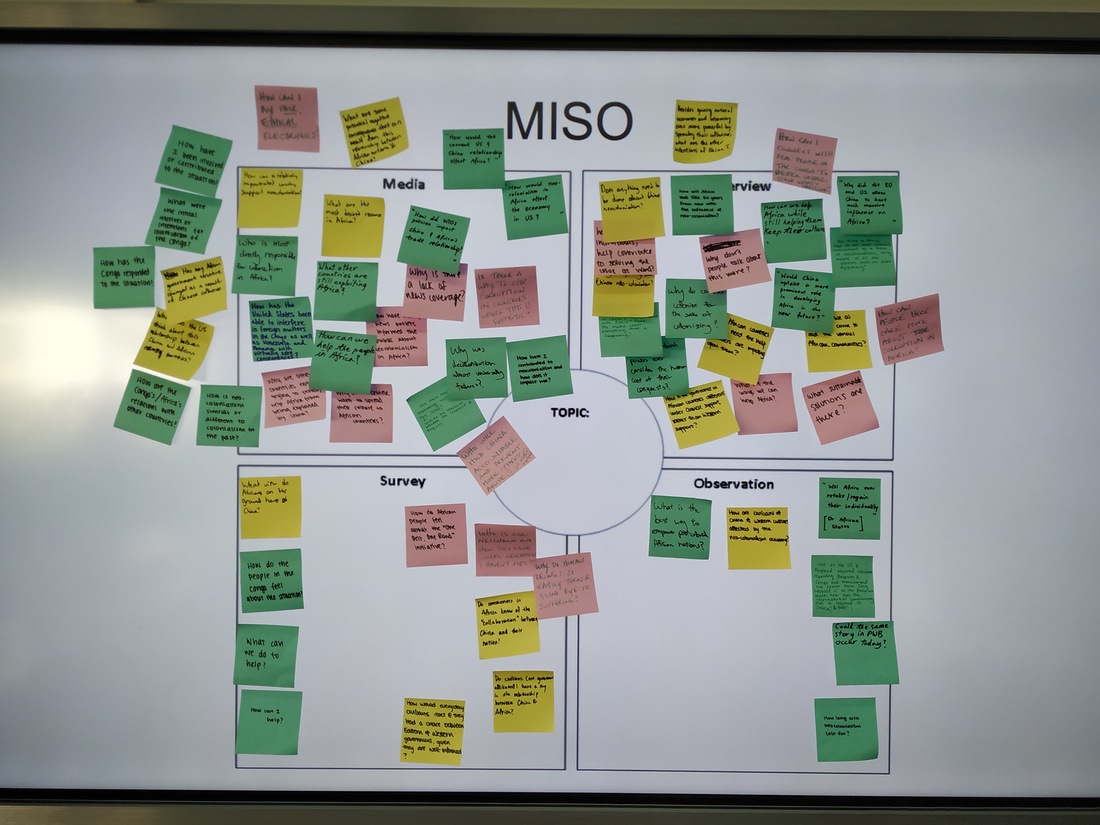 These questions demonstrated a much deeper sense of the cultural and contextual issues related to The Poisonwood Bible, and the students developed a keen sense of investment in gaining an understanding of various perspectives related to these research questions. They went into the community and interviewed teachers, peers and alumni who have spent significant time in African countries. They sought interviews with representatives from NGOs and university professors in Shanghai and in the U.S.A.
The MISO research opened up so much deeper learning. As the students conducted their interviews and processed a variety of complex perspectives, I could see them seeking to create their own ideas and viewpoints. Very meaningful work was underway.
From the research, students identified needs in our own community and then created a range of action plans to meet those needs. Some groups made presentations and led simulations with middle school groups. One group created an animated film. Another group created a proposal for a long-term partnership with Green Initiatives to implement sustainable e-waste recycling on campus.
To cap everything off, we used our semester 1 exam block to share final thoughts and reflections, and to demonstrate the learning that occurred throughout the unit. As students engaged with each other in rich, intelligent dialogue about the Congo, I couldn't help but smile widely the entire time. A beautiful, authentic learning experience had occurred. The students' ideas, perspectives and understandings of themselves, the world and their connection to the Congo had become more complex and nuanced. After teaching this novel several times previously, I could see that this learning experience was much more valuable that what I had done in the past.
At the end of the exam block, students used sticky notes to reflect on their service learning experience. Some highlights include:
· I like the fact that I can connect my AP Lit studies to the real world.
· I like how we identified a need and TOOK ACTION. (emphasis original)
· I like the intellectual freedom of this kind of project, as it lets students answer questions they are really passionate about.
· I like that this allowed us to be creative, which enhanced our problem-solving skills.
· I liked going beyond the usual media research to get input from the community (not something I do every assignment, or ever).
· I like getting a hands-on learning experience about Congolese culture, and that we did something meaningful and impactful for our community.
· I wish we could use the MISO projects in every class in the school.
· I wonder if we can make this a year-long project and allocate more in-class time to work on it.
· I wonder what more could be done.
As a service learning advocate, I know that this is what service learning does in our classrooms. It fosters engagement, results in deeper learning, and equips the students with the skills to be changemakers. To bring this into my AP classroom has opened a new dimension of this in my personal practice, and I am excited to see what experiences we can create in the second semester.
Please explore the buttons below to see how each group of AP Literature students engaged with this service learning adventure.